Come Together for the Common Good!
Mayday 2006
The Time is Now to come together for the Common Good! What is possible when we rise to the task of coming together – with the power of love—for the power of building the world we wish?
The ceremony asks hard questions, huge questions painted on a wall:
NATIONAL PRIORITY
An ordinary person trys to avoid entering into these questions by continually returning to his little caccoon of watching TV.
CAN WE AFFORD THIS?
He finally can not avoid the flood of distress (evoking the plight of Hurricane Katrina and the war dead of Iraq) and his responsibility in all this - and he weeps in the arms of the Tree of Life.
This was the year of the Grass , those tender blades of green that are powerful enough to crack open the walls. 'I wish to infuse myself among you till I see it common for you to walk hand in hand' - Words from Walt Whitman that inspire us still.
Thanks to the Ceremony Crafting team: Paul Johnson, Jim Koplin, Kevin Long, Julian McFaul, Esther Ouray, Sandy Spieler, Leslie Zenz and the other Mayday Staff artists: Dan Polnau, Julie Kastigar, Soozin Hirschmugl, Masanari Kawahara, Anne Sawyer-Aitch, Nephrii Amenii, Bart Buch, Ramon Cordes, Amy Ballestad, Duane Tougas, Malia Burkhart, Mark Safford, George Meyer, and Newman Family group.
Video thanks to Aleisha Mueller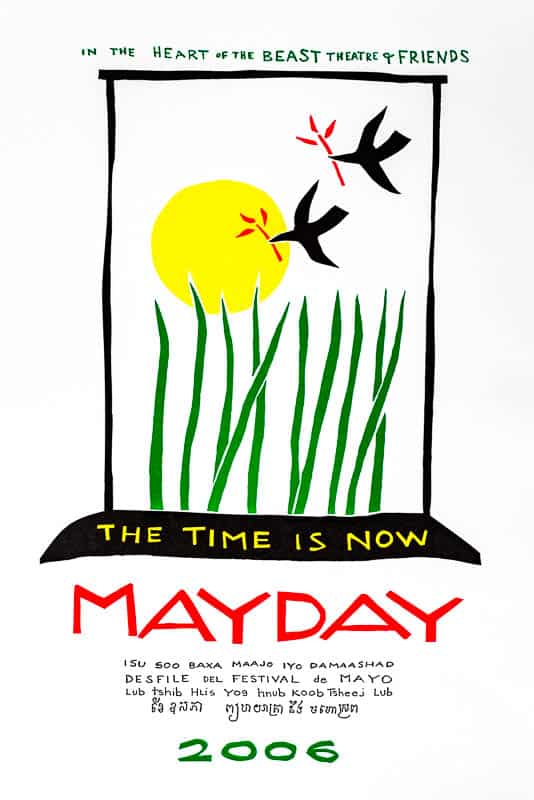 Photos from the MayDay Tree of Life Ceremony 2006