Invigorate the Common Well Episode 2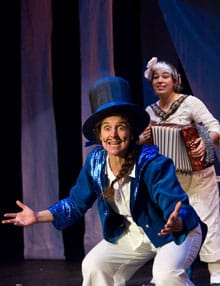 A Circus of Wonderments
The Circus of the Common Well!
The Wettest Show on Earth!
Experience the Rain!
The Monsters and Myths!
Staggering Magic Acts and Daring Rescues!
And above all…
Clowns Clowns Clowns!!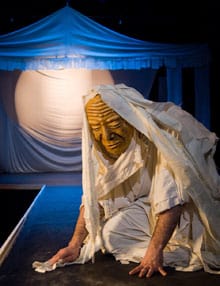 About Beneath the Surface
Beneath The Surface is a splashy celebration and investigation of our everyday drinking WATER. This enlightening and entertaining production features live performances, music and video. There's even a "What You Can Do!" Carnival to engage and inspire all ages!
Beneath The Surface bubbles up a "Circus of Wonderments," overflowing with fun, energy and imagination. This is a great way to introduce the children in your life to the issues that face our world about water.
As we prepared Beneath the Surface, Annika Bankston, an engineer with the Minneapolis Water Works wrote:
"Something seems symbolic to me in that the minute a person sees and touches the water from their tap, it begins its journey back to the river. This point of unveiling the water is a culmination of all the infrastructure and effort to make it pristine and it instantly becomes thought of as waste."
Her comment pierced my heart. Is water ever "waste"? I think not! Water is ESSENTIAL in its work of washing and nourishing the world! Why then do we take it so for granted?
Does the excellent convenience of our city's water infrastructure help us forget the water and our public service professionals who provide us with clean water? What an irony! And does this perception of water as "waste" lead to the many toxins in daily use that get washed away "somewhere" – "out of sight, out of mind"?
How do I participate in the journey of water through streams, rivers, wells, pipes and bottles towards my own and my neighbor's inevitable drink? How can I ensure the health of the water we all share?
These are the questions I held as "we" created Beneath the Surface. This "we" refers to a fabulous team of artists, advisors, researchers, organizers - and members of "On the Commons."
Many thanks! It has been my privilege to work with each and all of you! Thank you for joining us! May our time together "invigorate" discussion, networking, and brainstorming towards the joy and responsibility in caring for the precious gift of Water the moves inside each living cell of our planet. -Sandy Spieler
Production Team
INITIATING CONCEPT & DIRECTION: Sandy Spieler
CONCEPTUAL TEAM: Sandy Spieler, Masanari Kawahara, Duane Tougas, Malia Burkhart, Esther Ouray, Julie Boada, Rachel Breen, Aditi Brennan Kapil, Will Hommeyer, Greg Herriges
SCRIPT: Aditi Brennan Kapil
MUSIC COMPOSITION AND DIRECTION: Greg Herriges
VIDEO ARTIST: Will Hommeyer
VIDEO MUSIC RECORDING: Jeff Sylvestre
VIDEO SOUNDSCAPE: Ruth MacKenzie, Greg Herriges, Bob Hughes, Masanari Kawahara
TECHNICAL DIRECTION: Duane Tougas
PRODUCTION MANAGEMENT: Paul Robinson
LIGHTING DESIGNER: Richard Ashcraft Wilson
PUPPETS, COSTUMES, PROPS: Masanari Kawahara, Sandy Spieler, Malia Burkhart, Julie Boada, Jim Koplin, Duane Tougas, Gustavo Boada, Paul Robinson, Bill DeLong, Jessica Tweet, 
with help from Christina Danathar, Chad Danathar, Nancy Larsen, Brandy Snyder, Jaime Barber, Joan Fritz, Heidi Huebner, Ann Schrempp, Ugaso Sheik-Abdi, Jenna Thorsett, Jody Thorsett.
SET: Sandy Spieler, Duane Tougas
RESEARCH ASSISTANTS: Jim Koplin, D. Blake Love, Malia Burkhart, Rachel Breen, John Nordgaard
STUDY GUIDE: Rachel Breen, D. Blake Love
EXTRA RECORDING: Bob Hughes
AUDIO DESCRIPTION: Judy Baldwin
COMPOSITIONS FROM CIRCLE OF WATER CIRCUS: Steve Sandberg, Bob Hughes, Esther Ouray
WORDS FROM LIFE OF HOH: Florence Dacey
PROJECT EVALUATION: Linda M. Bosma, Bosma Consulting, LLC
Cast
Water One: D. Blake Love
Thirsty: Masanari Kawahara
Ringmaster: Esther Ouray
Bobo: Julie Boada
Uno: Malia Burkhart
Pepe: José Maquin Gutierrez
Tweet: Jessica Tweet
Squeak: Greg Herriges
Supporters
This project was supported in part by grants from:
The Bush Foundation
Sisters of St. Joseph Partners in Justice
Minnesota Department of Health, Environmental Health Division, Drinking Water Protection Section
National Endowment for the Arts
Mary H. Rice Foundation
Cynthia Krieg Memorial Watershed Stewardship Fund
Toro Foundation
WedgeShare
and many contributions from individual donors